For the good of the game: the inside story of the surprising and dramatic transformation of Major League Baseball
(Book)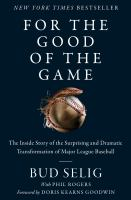 Published:
New York, NY : William Morrow, an imprint of HarperCollinsPublishers, [2019] .
Physical Desc:
xiii, 318 pages, 16 unnumbered pages of plates : illustrations ; 24 cm.
Status:

1 copy on order.
North Branford/Smith Adult Nonfiction - New
New 796.357 Selig