Metropolis: a history of the city, humankind's greatest invention
(Book)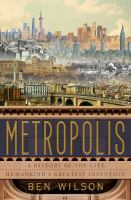 Published:
New York : Doubleday, [2020].
Edition:
First United States edition.
Physical Desc:
x, 442 pages, 8 unnumbered pages of plates (some color) ; illustrations (some color), map ; 24 cm.
Status:
3 copies, 1 person is on the wait list.
North Branford/Smith Adult Nonfiction - New
New 307.7 Wilson