Unwinding anxiety: new science shows how to break the cycles of worry and fear to heal your mind
(Book)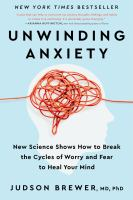 Published:
New York : Avery, an imprint of Penguin Random House, ©2021.
Physical Desc:
xv, 287 pages : illustrations ; 24 cm.
Status:
13 copies, 1 person is on the wait list.
North Branford/Atwater Adult Nonfiction - New
New 616.8527 Brewer