Vanderbilt: the rise and fall of an American dynasty
(Large Print)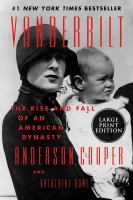 Published:
New York, NY : Harper, an imprint of HarperCollinsPublishers, 2021.
Edition:
First Harper large print edition.
Physical Desc:
xviii, 424 pages, 16 unnumbered pages of plates (large print) : illustrations (some color), genealogical table, color map ; 24 cm
Status:
3 copies, 8 people are on the wait list.
1 copy on order.